Food, Power, Exchange and Identity
Food and Foodstuffs in the French and Francophone Worlds
Curator: Professor Francesca Canadé Sautman
The Henri Peyre French Institute is attentive to the global conversations on food, on the distribution of wealth, on sustainable and sovereign food production as well as on the role of food and cuisine in cultural exchange and cultural fusion. This  has been evident in its diverse, multidisciplinary programming, especially  its October 2007 Symposium on Food Studies.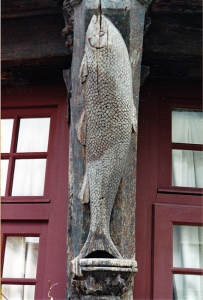 The HPFI three-year seminar Food, Power, Exchange and Identity in the French and Francophone Worlds beginning in Spring 2014 focuses on the relation between food as cultural process and specific foodstuffs that have a rich and complex history both in the arts and in society.
Building on the expertise of scholars from CUNY and other institutions, as well as from independent scholars and inviting participation from the public, seminar activities each semester center around specific foods and forms of processing in the French and Francophone worlds.
The semester topics are: Salt; Sugar, Coffee; Fruit (indigenous and imported); Wine; and Transformation Processes that preserve foods. Other events will include discussions of taste, discourses on physiology, cultural difference, and structures of exchange.
Salt; sugar, coffee; fruit, wine; and preservation processes are evidently not merely instrumental in the preparation of individual culinary products and their integration into a particular culinary national or regional identity. The transfer of such foodstuffs from their natural habitat to markets, kitchens and tables is inseparable from long term impacts on the communities that produce them, and also change the economic and cultural makeup of their point of arrival. Networks of exchange and production operate through plantation systems of exploitation, colonialism and migration, as well as industrialized agriculture and equal trade. Migrating, cultivating, gathering, processing and preserving generate rich forms of local and popular cultures. The gathering and consumption of food is not only culinary but linked to medicine and public health, this from the early modern period to today, with local reliance on herbs, leaves and fruits for sustenance and medical purpose. All these elements reshape and reformulate cultural identities through their use and the manner in which they are obtained and transmitted.
The HPFI Food, Power, Exchange and Identity seminar aims to generate broad exchanges and myriad conversations around its main theme and specific articulations. We encourage scholars, institution-based or independent, to view us as a space of sharing and dissemination, as a crossroads and home for advanced research as well as ongoing explorations of the field in its many dimensions. The Seminar includes conferences and panel discussions as well as digital means, in particular online forums and online exhibits that invite comment from website visitors.